HOME > Tobaccos all over the world > Spain

Spain is located on the Iberian Peninsula in Europe and has a population of 45 million. Madrid, which has been its capital since the 16th century, sits 600-1000 meters above sea-level. It is the biggest city in Spain, with 3.5 million people.

Spain's colorful culture includes flamenco, bull-fighting, soccer and the architecture of Gaudi.

The second largest city, Barcelona, lies in a warm coastal area and is home to numerous buildings designed by Gaudi, such as the renowned Sagrada Familia.

See more photos of Spain's scenery

The southeastern city of Valencia is famed for its rice and is also the largest industrial area in the country.

In the little northern town of Comillas, is El Capricho, small palace designed by Gaudi.
While it is not well-known, it is the only building by Gaudi that is owned by a Japanese. There used to be a restaurant on the premises, but now the rest of the building is also open to the public.



In Spain, there are 13,500 TABACOS shops that specialize in selling tobacco and its products.
Cigarette sales have declined continuously since 2008, falling 47% by 2013.

Spain has 1.7 million cigarette vending machines located in places like hotels, restaurants, cafes, but there are almost none on the streets.
Prices are fixed and stores must have a licence to sell tobacco.

Cigarette packets come with warning messages printed on the front and graphic images on the back.
Prices are not cheap at 3 to 4.5 euros per pack. A store owner said that 82% of this is actually tax.

Unlike in America, I didn't see any electronic cigarettes on sale, but hand-rolled cigarettes were very common.
300 gram value packs were also on sale.
The smoking age in Spain is 18, and smoking indoors, such as in hotels, restaurants and cafes is prohibited.
Due to this law, people often smoke as they walk outdoors, and cigarette butts are often seen in and around ashtrays installed on the sidewalks.

The rate of smoking is around 38% but has increased slightly. Public advertising is restricted, but tobacco companies may run their sales campaigns freely within the stores. On this trip, many stores I visited were running PM and JTI campaigns.

The top manufacturer in Spain is Imperial Tobacco with a 32% market share, followed by PM and JTI.

As for the top brand, it's a toss-up between PM's Marlboro and Imperial Tobacco's Ducados.

See more photos of Spain's tobacco
Many shop owners I met said they were interested in the state of tobacco in Japan, as well as Japanese culture. If possible, they said they would love to visit.
It seems that Japan has a great reputation here in Spain.

When I was taking photos in a Barcelona tobacco shop with the owner's permission, there was a sales campaign girl who complained about it. It seemed that she didn't welcome me taking a photograph of her. This is the same as in Japan.

Then the shopkeeper said, "This person is my customer. I gave him permission to take photos, so if you don't want to be photographed, why not move where you won't be seen?"

This shopkeeper, who was about to go out on urgent business, even showed me around the store very gladly. Finally, he saw me off outside with a wonderful smile.
It was definitely a very touching moment.

To conclude, I would like to give my heartfelt thanks to all the shop owners and staff who so graciously welcomed me. Thank you very much for your time and your wonderful hospitality.

Although we come from different countries, we are in the same trade, and I deeply felt passion we share for our work.

Someday, I hope that we may meet again.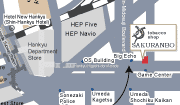 We deal with about 600 products in the shop.